"In the choice to let go of your known way of being / the whole world is revealed to your eyes."
— Danna Faulds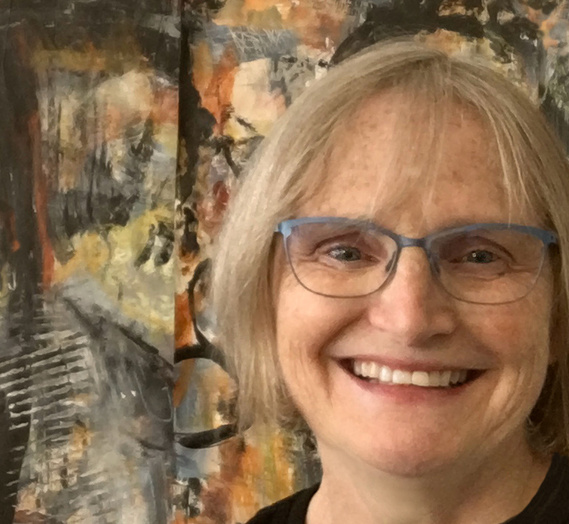 About
Terry Blanchard is an artist and retired graphic designer living in Florence, Massachusetts. Her art curiosity and exploration began early in life, but it wasn't until young adulthood, when she was introduced to a unique and intuitive painting process in a week-long workshop, that she began a much deeper journey. She was hooked for life.
In the three-plus decades since, she has continued that process at The Painting Experience Studio (and later at The Center for Creative Exploration) in San Francisco where she often paints in community with others also drawn to the freedom and mystery of it all. She completed a three-year training program and went on to found The Power of Paint, using a similar approach she taught in classes and workshops for ten-plus years.
Concurrently, she also worked as a graphic designer for over 25 years. She now creates and exhibits her art in her studio at the Arts & Industry building in Florence, Massachusetts, where she has widened her range and delved into areas such as fiber art, collage, assemblage, and encaustic.
Statement

Although I worked as a graphic designer throughout my adult life, my passion for art (specifically painting at the time) was rooted in an orientation I'd been introduced to in which process and inner movement was valued over end result. I learned to listen to and follow my energy and curiosity and to let myself break through boundaries without regard to artistic conventions or constraints. I didn't evaluate or fix or change anything into something more "pleasing" because I realized that darkness and chaos were equally in need of expression as was beauty and lightness. It was a practice of acceptance and letting go and it was enlivening and empowering (see sample process paintings).
I've continued that approach for over 30 years, yet also feel the need and desire to explore expression in other ways and with other media. I like to think that I can approach other combinations of media with some of the same sense of freedom. I've been pursuing new ways of expressing myself through collage, assemblage, and encaustic, and am delighting in the myriad ways that old and new, "ugly" and "beautiful" can be juxtaposed to challenge the ordinary and evoke something beyond language.
I believe that creativity is at the root of aliveness and transformation, that we can use it to awaken lazy perceptions and assumptions, and to ultimately better our world and find new solutions.